SCHOOLCHILDREN DESIGN LOGO FOR COMMUNITY FUND
Local schoolchildren have been asked to apply their creativity to designing a logo for the Community Benefit Fund that is being provided by RES' Woolley Hill Wind Farm, situated near Ellington in Huntingdonshire.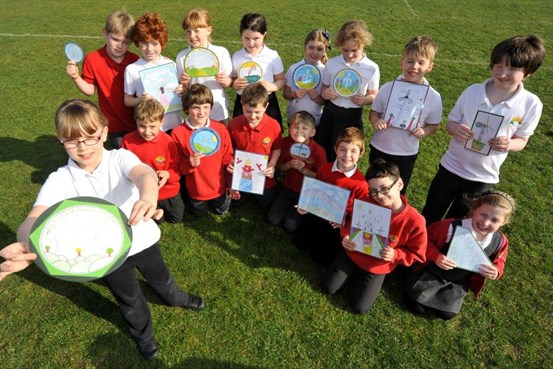 Year 4 pupils at Alconbury Church of England School took up the challenge of designing the Fund logo and submitted 17 different entries. The winning entry came from Mia, who is nine years old. Mia is pictured with her winning design on the extreme left of our photograph (reproduced with kind permission of The Hunts Post).
Alison Jones, RES Community Relations Manager, said:
"We'd like to thank all the children who participated in the logo design exercise. We were really impressed with the creative and positive representations of the wind farm that they produced. It was very difficult to choose between them, but the Fund Panel have made a great choice and Mia's design will look fabulous on letters, websites and other communications. It will really help people to recognise the Woolley Hill Wind Farm Community Fund and its contribution to the local community."
The winning logo can be seen on the Cambridgeshire Community Foundation website, alongside details of how to apply to the Fund for support. The Woolley Hill Wind Farm Community Fund provides £20,000 per year for the local community to invest in local projects. Eligible projects must demonstrate that they will benefit people living and working in the parishes of Alconbury, Alconbury Weston, Barham and Woolley, Buckworth, Easton, Ellington and Spaldwick. The Fund will be making its first payments later this year, following the wind farm becoming fully operational.