MARCH 2015: WOOLLEY HILL WIND FARM WILL DELIVER LASTING WILDLIFE LEGACY
- Creation of new habitats and native grassland will benefit biodiversity over the long term -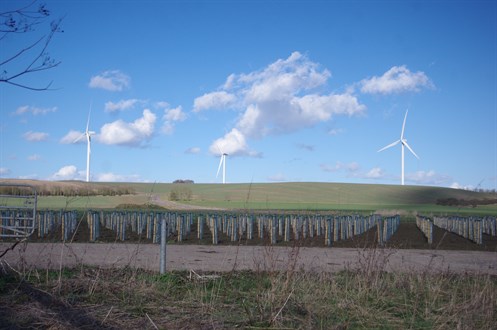 Local wildlife is set to benefit from improvements to their environment as RES' Woolley Hill Wind Farm nears completion. The four turbine wind farm near Ellington, Huntingdonshire, is implementing a number of ecological enhancements as part of the reinstatement of the site following construction.
Alison Jones, RES Community Relations Manager, explains:
"As a responsible renewable energy company, RES is committed to protecting the environment. Our core business focuses on tackling climate change by displacing fossil fuels and thereby reducing greenhouse gas emissions. However, we also want our renewable energy projects to make as little impact as possible on local people and the local environment. We strive to make our sites even more diverse in plant and animal life than before we arrived, and this is what we are trying to achieve at Woolley Hill."
Once reinstatement works are complete, Woolley Hill Wind Farm will include more than a hectare of new grassland, which is being seeded with a mix of native wildflowers that would have been common before modern farming was introduced. Lying to the north of the site near the wind farm's control building, this habitat is intended to encourage pollinating insects and also provide a hunting habitat for barn owls. The planting of new wildflower grassland also responds to the aims of the Local Biodiversity Action Plan, which sets targets for the creation of new grassland and farmland habitats of benefit to wildlife. 
In addition to the wildflower grassland, RES is planting around one kilometre of native hedgerow. Among the species being encouraged are field maple, hawthorn, hazel, dogwood, spindle and dog roses; interspersed with larger trees like oak, wild cherry and black poplar. 
Low growing woodland is also being introduced in various locations, most notably around the control building and adjacent to the A14 near Ellington Common to encourage bats to roost, as well as providing cover for brown hare and nest sites for declining birds such as yellowhammer and song thrush. The planting schemes are being supported by the provision of bat and owl boxes to encourage roosts on parts of the site that are not occupied by the turbines.
Alison Jones concludes:
"We hope that the environmental improvements at Woolley Hill Wind Farm will not only support local wildlife, but will also bring benefits to local people. There is a public footpath running through the fields below the turbines and we hope that walkers will soon begin to notice more diverse plants and flowers in the area, as well as enjoying the occasional sighting of a rare bird or hare while out for a stroll."
Woolley Hill Wind Farm will become fully operational in Spring 2015, providing community benefits totalling £50,000 per year; including an annual electricity discount scheme for properties within 2km of the turbines and a Community Fund to support local environmental, educational and social projects. Its four turbines will be capable of generating sufficient renewable electricity to meet the average annual needs of around 7,000 UK homes. 
_______________________________________ 
The homes equivalent has been calculated by taking the predicted annual electricity generation of the site (based on RES studies Woolley Hill Wind Farm has a predicted capacity factor of 39.1%) and dividing this by the annual average household electricity consumption figures from the Department of Energy and Climate Change 2012 (4229kWh).